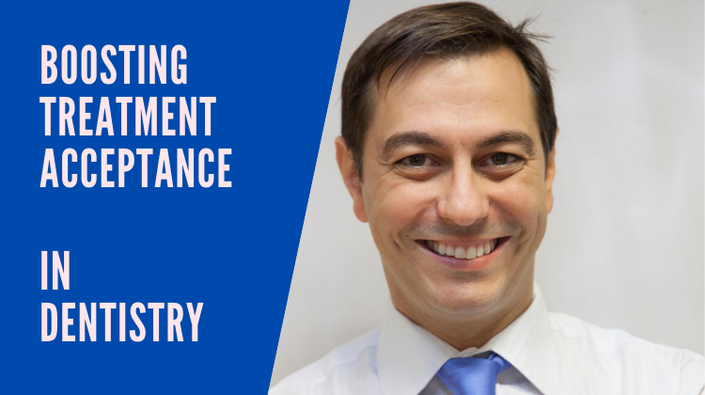 Dental Patient Communication: Boosting Treatment Acceptance
A comprehensive online training for dentists about Communication and Treatment Presentation
Watch Promo
This online course is a very comprehensive training for dentists, physicians and their teams about Communication and Treatment Presentation and the skills you need to be successfully presenting the treatments you offer to your patients.
The examples are tailored for dental offices, but it also applies to private physicians.
In Universities 🎓 we have not been prepared to be entrepreneurs...

But we open a dental office and have to compete.
Some of you are lucky and compete against other "amateurs", e.g. other dentists or physicians, but some of us are in countries where regulations allow even a taxi driver to open a dental office, which makes everything a pure business and then YOU, as a dentist, have to compete against "real" entrepreneurs.
👉 With this course you will be equipped with skills and ideas, that will help you with the communication and presentation process.
⛔️ You don't have to learn things the hard way.
⛔️ You don't have to reinvent the wheel.
✅ In its 7 hours of lectures, you will find many tips and tricks, that you have to write down, practice and repeat over and over, so that they come naturally out of your mind to help patients to make the correct decision and choose you and your proposed treatment.
Success doesn't have to be eventual (or by chance). You can get started NOW.
In its 27 lectures, you will find many tips and tricks, that you have to write down, practice and repeat over and over, so that they come naturally out of your mind to help patients to make the correct decision and choose you and your proposed treatment.
Some of the chapters and lectures are also part of other courses, but for the overall understanding it is important to have them in this course as well.

If your dental skills are excellent, but you want more patients to accept bigger, more sophisticated, better treatments for them, then this course is the right one for you.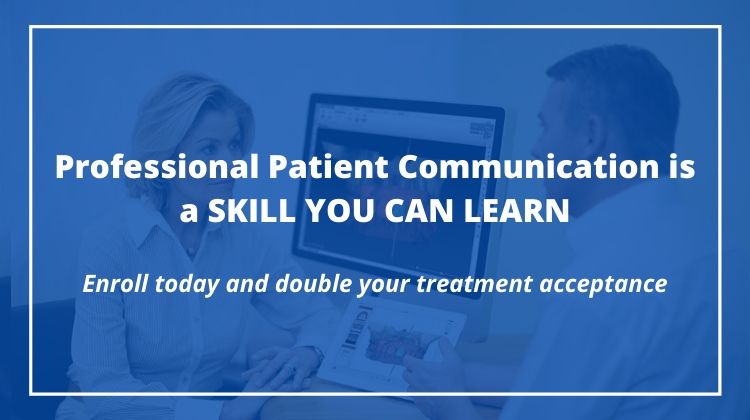 Easy-to-apply ideas and strategies that increase treatment acceptance and cash flow. To boost profits is the key to dental business success.
You will be equipped with real world tips on how to communicate properly and how to present to patients your proposal in a way they will say " YES ✅".
If you implement these strategies, your dental business will succeed, the first time. You CAN learn these lessons the easy way — and "Dental Patient Communication" is your key to doing that.

So don ́t wait and register today! .
During the course, you learn👌:
This course gives you a deep understanding of the patient communication and treatment presentation process and its skills.
Among many other things you will learn:

- Psychology of saying Yes

- What words and language to use

- Objection-Handling

- Importance of Body Language

- The Presentation Process

- Tips and Tricks about the Presentation

- The Closing Process

- How to handle special situations

You probably spend more than the investment of this training program on dinner out every month — and dinner out doesn't increase your profits, boost your treatment acceptance and power your productivity like this course does.
This course comprises 27 CRUCIAL lessons:

INTRODUCTION
C001 - Introduction
COMMUNICATION BASICS
C002 - Basics of Patient Communication
Learn the communication patterns, tonality, body language and what to have in mind.
C003 - What language to use for patients
Learn how to replace negative words by positive words, how to avoid technicisms and what the mistakes in communication are.
C004 - The Keywords of Closing
Learn the Trigger Words, Looping Words and Closing Words.
C005 - Why asking questions is important in selling
Learn why we need questions, what is their aim and what we need to find out with them.
C006 - Why the way you communicate is so important
Learn what you have to trace and screen in the office. Learn the difference for the office between average and good communication skills.
THE BUYING HABITS
C007 - 5 reasons patients don't buy your treatments
Video describing the 5 most common reasons patients don't buy the treatments, and what to do in these cases.
C008 - 3 reasons why patients buy your treatments
Video explaining three reasons why patients say yes to a treatment option, and how to cater to these decision-driving reasons.
PSYCHOLOGICAL RULES
C009 - The Psychology of saying Yes
Learn the Difference between Persuation and Manipulation. Professors Cialdini's 6 Principles of Persuation and how to apply them in dentistry.
C010 - Create Ideal Acceptance Conditions
Learn different strategies to make it easier to say YES. Learn how to build a solid basis for a successful Case Presentation Conversation.
C011 - Pre-suation Principles
Learn what is Pre-suation, different Pre-suation situations and how to apply them to dentistry.
THE PROCESSES
C012 - The Closing Sequence
Learn what the aim of the closing sequence is, get to know the steps of the sequence and have a structure you can always follow.
C013 - The 5 Steps of the Communication Process
What to do before the actual presentation and what the patient has to know for sure.
THE PRESENTATION
C014 - Basic Thoughts on Treatment Presentations
Learn different pre-requisites for a successful presentation and what you have to be aware of and train for a successful presentation.
C015 - Powerful Questions during the Presentation
Learn the goals of asking and the different questions you should ask.
C016 - 3 Step Technique for Patients to say Yes
Learn the 3 Steps and how to apply them to dentistry.
C017 - Overcoming Barriers during the Presentation
Learn what the possible barriers could be and how to overcome them, and what to avoid.
C018 - Mistakes during the Case Presentation
Learn the possible mistakes, how to avoid them and how to use them for you.
ADDITIONAL TIPS AND TRICKS
C019 - Active Listening
Learn to let patients talk and how to send signals you are still active.
C020 - Gift-Wrap your Value
Learn the difference for your value if you wrap it and apply it to dentistry.
C021 - Small Tips and Tricks for Case Presentations
Learn little things you have to be aware of or change, to make your presentation even more successful.
THE OBJECTIONS
C022 - Your First No
Learn how to change the game, and about deflection and looping.
C023 - A simple idea on how to handle objections
Short video explaining a simple but effective idea on how to handle objections, your patient might come up with.
C024 - Most common Objections and how to handle them
Learn the basic ideas of objection handling, be equipped with tools for any objection and handle the objections in a professional way.
SPECIAL SITUATIONS
C025 - When the Patient asks
Learn the most common questions and how to react to them during your presentation.
C026 - The Indecisive Patient
Learn these two options: The sudden death close and the method of telling them what to do in a smooth way.
C027 - The Angry Patient
Understand the most common causes why patients get angry and learn strategies on how to react to them.
Now, you're probably wondering how much this is going to cost you?

This program sells for $650 on our website, but since we are living in uncertain times, we are offering you this program for 50% off, that is $325 only which includes lifetime access to 27 videos, totaling about 7 hours of instructions, proven ideas, strategies and techniques you can use immediately to increase your treatment acceptance, boost profits and achieve your goals.
So we don't have to explain why, at a $325 price point, this training program is a no-brainer. You will earn back this investment in no time.
All we ask for in return is your honest feedback once you've had a chance to check out this brand-new training program.
If you implement these strategies, your dental business will succeed, the first time. You CAN learn these lessons the easy way — and "Dental Patient Communication" is your key to doing that.

Your Instructor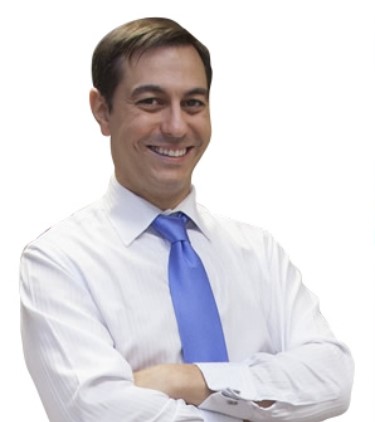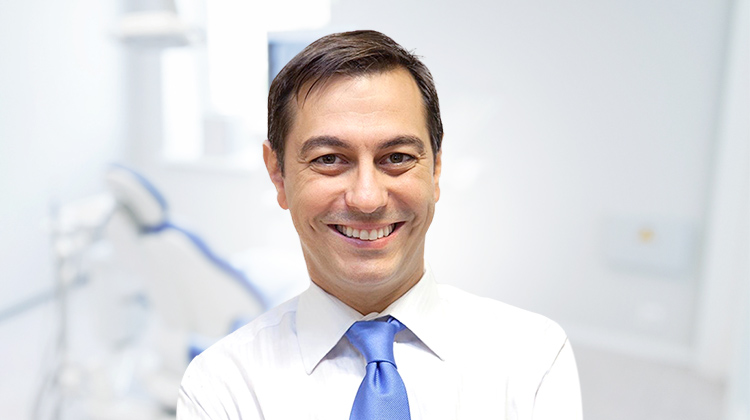 Learn the techniques of one of the most recognized dentists in his field
Why trust Dr. German Gomez?
Dr. German Gómez is Spaniard and DDS, MD and PhD from the University of Tübingen, Germany.
For the past 25 years, Dr. Gómez has been in tight contact with the dental industry. He worked in the headquarters of a big dental corporation for three years.
In the last 20 years, Dr. Gómez has held over 400 lectures, seminars and hands-on workshops in 42 different countries all over the world, many of them in Dental Business Management.
After some years in the most prestigious dental offices of Germany, Dr. Gomez finally moved to Spain in 2004, where he runs his dental office in Valencia, focusing on Esthetic Dentistry and Implants.
Spain is an extremely hostile environment to run a dental office as a business due to the legislation and the overflow of dental universities. Starting from scratch and succeeding in that environment gives the course a higher value.
He is also a certified trainer at the International College of Dental Management in London, ICDM.

Certificate of Completion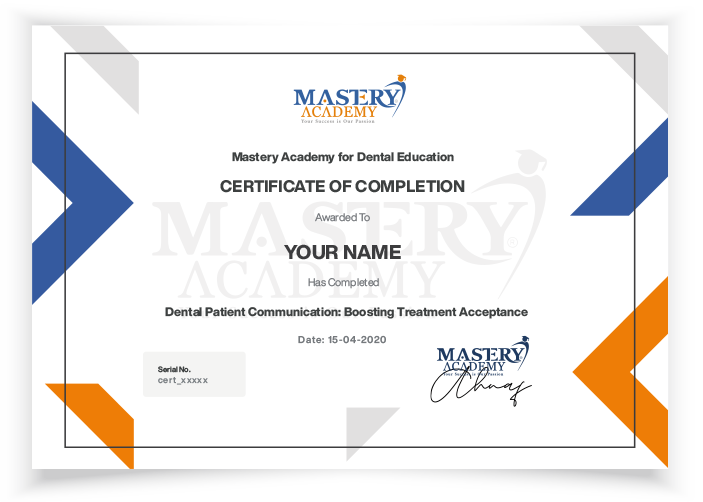 "Dental Patient Communication Skills"
is a certified online training program that provides easy-to-apply ideas and strategies that increase dental sales and cash flow.
This online program includes a required assessment at the conclusion of the program that will measure the participant's level of understanding and test his or her knowledge.
Participants that successfully complete all of the required assignments will receive a printable certificate of completion certified by Mastery Academy® and by the

International College of Dental Management

, ICDM, London.
ICDM is a recognized learning provider from the CPD in the United Kingdom.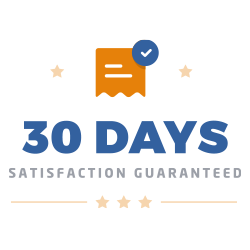 You make this investment at NO RISK because you're covered by our 100% satisfaction guarantee. You have nothing to lose.
Try the techniques in the program for a full month, and if it doesn't meet your expectations, return it for a full refund. No questions asked.
We are an ISO Certified Dental Academy

Mastery Academy has achieved yet another milestone! We are now officially an ISO certified dental academy for quality assurance.
Our ISO certification is a testimony of our commitment towards offering quality, affordable, and accessible dental education and training for all dental professionals around the globe. We offer high-quality customer care and management services (ISO 9001: 2015), coupled with the highest levels of personal data security and privacy (ISO 27001:2013).
With this achievement, the Mastery Academy team wows to provide even better services to our esteemed dental healthcare professionals by offering an easy and convenient management system (ISO 10002:2014), that provides a powerful mix of online learning, hands-on clinical training, short courses and diplomas that give you an edge over other dental professionals.
We offer you a platform that provides endless opportunities for acquiring contemporary dental knowledge and skills that empower you to run a successful and profitable dental practice.
Frequently Asked Questions
When does the course start and finish?
The course starts now and never ends! It is a completely self-paced online course - you decide when you start and when you finish.
How long do I have access to the course?
How does lifetime access sound? After enrolling, you have unlimited access to this course for as long as you like - across any and all devices you own.
What if I am unhappy with the course?
We would never want you to be unhappy! If you are unsatisfied with your purchase, contact us in the first 30 days and we will give you a full refund.