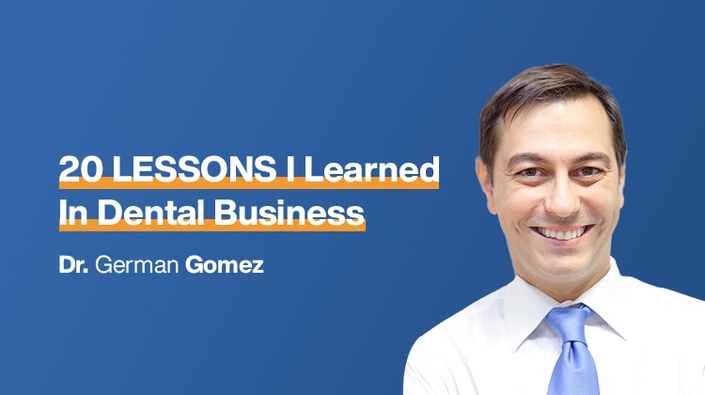 20 Lessons I Learned in Dental Business Management
By Dr. German Gómez - Online Course
Turn your dental practice into an even more successful dental business by mastering what Dr.German Gómez learned throughout his career.
When we were still studying in our universities, we were not taught the basics of entrepreneurship. But we had to open offices of our own in order to compete.
Some of you are fortunate enough to only have to compete against other "amateurs", e.g. other dentists or physicians, but some of us are in countries where regulations - allow even "taxi drivers" to open up dental offices.
This makes everything all about business and then . . . You. As an end result, you will have to compete with professional entrepreneurs and do the "marketing stuff".
This course is a short introduction to an entirely different way of thinking for dentists, physicians and all in their teams. These practices are tailored NOT only for dental offices, but also for private physicians' clinics.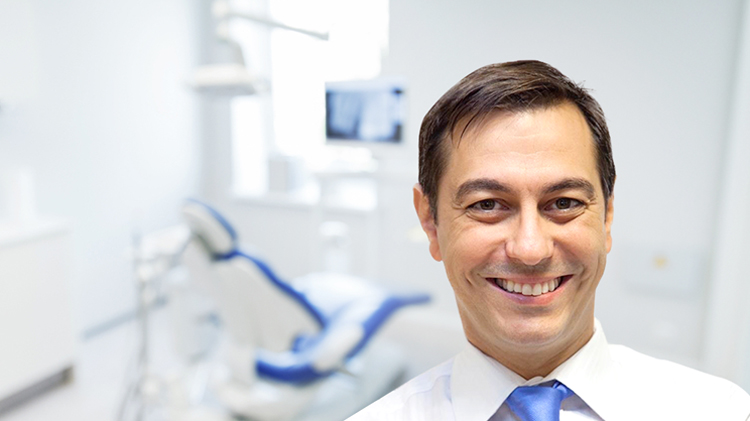 This course is meant to give you an entrepreneurial mindset and ideas about the fundamentals of dental business management, personal branding, marketing and the sales process.

These are just 20 short tips that open up different opportunities and may change the way you do business from hereafter.
Should you be able to implement two or more of these ideas, this will bring you more patients, which means that you will see your revenue increase over the years.
In this course you will start to get a mindset and ideas about the fundamentals of dental business management, personal branding, marketing and the sales process. It is not complete, just 20 short tips, that open up and may change the way you do business until now.
But if you can implement one or two of these ideas, this will bring you more patients, which means much more revenue over the years.
What you will learn

This course introduces you to understand marketing and sales as well as Personal
Branding techniques.
Among many other things you will learn:
How to calculate the Value of a New Dental Patient

The difference between Dental Marketing vs Dental Sales and Features vs Benefits

Why you should Raise your Dental Prices

The difference between your Dental Office Mission and Vision Statement

How to write your Personal Elevator Pitch

The 4 types of Dental Patient

Personal Branding Secrets

5 Mistakes Dentists Make

3 reasons why patients buy your treatment

Why and how you should do Dental Video Marketing

How to handle media and press for your dental office

How to stimulate referrals and see a Referral Script

A simple idea on how to handle patient's objections

Steps to improve your Dental Sales Process
Outline of the Course and each lesson Section
1: Introduction
Lecture 1: Introduction
Section 2: Fundamentals
Lecture 2: How to calculate the Value of a New Dental Patient
Learn how to calculate the lifetime value of a new dental patient
Lecture 3: Difference between Dental Marketing vs Sales and Features vs Benefits Gain awareness of the terms and understand the differences
Lecture 4: Why you should Raise your Prices
Understand, that low prices don ́t mean automatically more patients
Lecture 5: The 4 most important skills in dentistry
4 skills you need and why they are important
Lecture 6: The 4 different types of patients
Get to know the types and learn how to choose the best
Section 3: Personal Branding
Lecture 7: The difference between your Office Mission and Vision Statement Mission and Vision Statement and how to build them for your office
Lecture 8: Fundamentals of Personal Branding for Dentists
Understand Branding and start building your Personal Brand
Lecture 9: How to write your Personal Elevator Pitch
Step-by-Step instruction to your own Elevator Pitch
Lecture 10: Personal Branding Secrets
Small tips on an action plan for your brand
Lecture 11: Be the Expert for your dental patients
How to specialize in certain patients and claim expertise
Section 4: About Marketing
Lecture 12: Why and how dentists should do Video Marketing How to structure your Videos to be successful
Lecture 13: Tips on how to handle media and press Be prepared for TV, Radio and Press
Lecture 14: How to stimulate referrals
Strategies to increase referrals and how to handle a "No"
Lecture 15: Patient Referral Script Step-by-Step
A possible script to follow when asking for referrals
Section 5: About the Sales Process
Lecture 16: 5 reasons patients don't buy your treatments
Know them and react to them. Improve your process.
Lecture 17: 5 mistakes dentists make when they try to sell treatments Avoid these mistakes by knowing them.
Lecture 18: A simple idea on how to handle objections Simple 3 Step idea, that is easy to implement.
Lecture 19: 3 reasons why patients buy your treatments
Know the reasons and how to take advantage of them.
Lecture 20: Start closing, don't sell your treatments
A "closer" uses the simple idea of "Value in Advance"
Lecture 21: Steps to improve your Sales Process
5 steps and how to improve the process.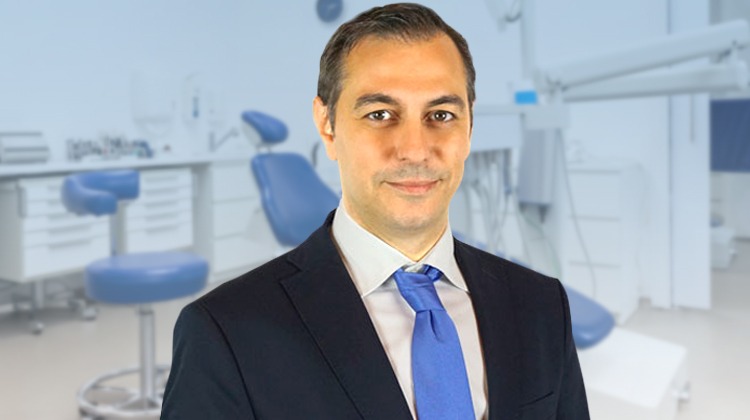 Learn the Dental Business tips of one of the most recognized dentists in his field
Dr. Gómez is a Spanish Dentist, DDS, MD and PhD from the University of Tübingen, Germany.
For the past 25 years, Dr. Gómez has been in tight contact with the dental industry. He worked in the headquarters of a big dental corporation for three years.
Dr. Gómez has held over 400 lectures, seminars and hands-on workshops in 42 different countries all over the world in the last 20 years, with many of them in Dental Business Management.
Dr. Gómez believes that Dental Business Management is a learnable skill that you can learn easily if you have the wellness to learn and practice.
After spending a few years in the most prestigious dental offices in Germany, Dr. Gomez finally moved back to his home country of Spain in 2004, where he runs his dental office in Valencia, focusing on Esthetic Dentistry and Implants.
What makes Dr. Gomez different from other trainers in dental business is that Spain is famous for being an extremely competitive environment to run a dental office as a business due to the legislation and the overflow of dental universities. Dr. Gómez managed to start off from scratch and successfully maintain his business, which is no easy feat. That really goes to show that he has many valuable lessons to teach you in this class.
Course Curriculum
Introduction
Available in days
days after you enroll
Certificate of Completion
"20 Lessons I learned in Dental Business Management" is a certified online program that provides a comprehensive approach to managing your dental business.
This online program includes a required assessment at the conclusion of the program that will measure the participant's level of understanding and test his or her knowledge.
Participants that successfully complete all of the required assessment will receive a printable certificate of completion certified by Mastery Academy®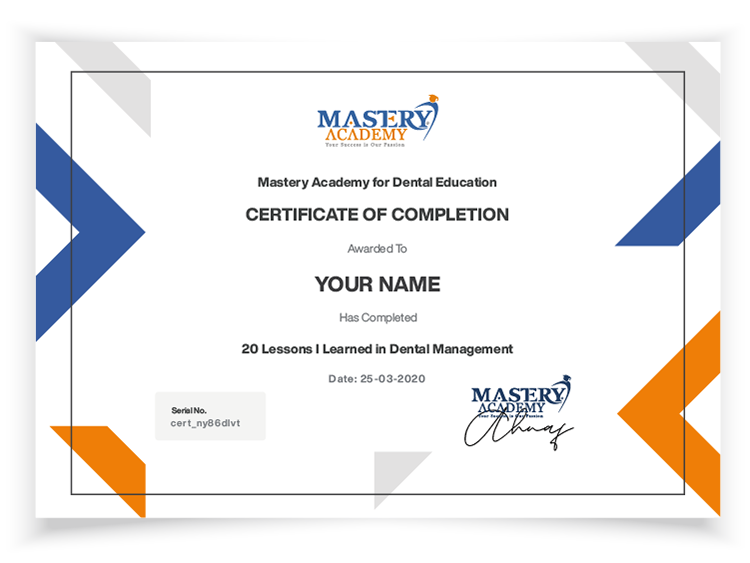 Needless to say, we dentists need to make a living. We have to stay on top of our game because we all desire to stay relevant as dentists.

"Dentists not only need to have a mindset of a doctor who wishes to give their patients beautiful smiles, they also need to think like entrepreneurs.
Being a dentist also means that you become an entrepreneur once you start your own clinic."
As such, you will need the knowledge on how to effectively run your clinic as both a doctor and entrepreneur. With our course, you will not only be an effective dentist, you will also become an incredible entrepreneur!
Enroll Now and get unlimited access to the self-paced online program for the entire life. Watch the online video lectures from anywhere at any time on your own schedule.

30-Day Money-Back Guarantee
You make this investment at NO RISK because you're covered by our 100% satisfaction guarantee. You have nothing to lose.
Try the techniques in the program for a full month, and if it doesn't meet your expectations, return it for a full refund. No questions asked.
Sound good?
We are an ISO Certified Dental Academy

Mastery Academy has achieved yet another milestone! We are now officially an ISO certified dental academy for quality assurance.
Our ISO certification is a testimony of our commitment towards offering quality, affordable, and accessible dental education and training for all dental professionals around the globe. We offer high-quality customer care and management services (ISO 9001: 2015), coupled with the highest levels of personal data security and privacy (ISO 27001:2013).
With this achievement, the Mastery Academy team wows to provide even better services to our esteemed dental healthcare professionals by offering an easy and convenient management system (ISO 10002:2014), that provides a powerful mix of online learning, hands-on clinical training, short courses and diplomas that give you an edge over other dental professionals.
We offer you a platform that provides endless opportunities for acquiring contemporary dental knowledge and skills that empower you to run a successful and profitable dental practice.
Frequently Asked Questions
When does the course start and finish?
The course starts now and never ends! It is a completely self-paced online course - you decide when you start and when you finish.
How long do I have access to the course?
How does lifetime access sound? After enrolling, you have unlimited access to this course for as long as you like - across any and all devices you own.
What if I am unhappy with the course?
We would never want you to be unhappy! If you are unsatisfied with your purchase, contact us in the first 30 days and we will give you a full refund.